In 2018 I discovered the work of renowned artist James Turrell. David Walsh, the owner of MONA in Hobart, pursued James Turrell in the early nineties after turning on through the exhibition of his 'Skyspace' work at New York's PSI. He wanted one for MONA and in Walsh's words, James Turrell did not.
Eventually Walsh got his way after Turrell knew that Hobart was not only the home of MONA, but also the location of the Friends private school, apparently the world's biggest Quaker school. That I did not know, including the salient fact they believe in the power of light and education. This in itself is an interesting story as many of Hobart's population have personal links to this private school in one way or another. The link in this Hobart Art story is to James Turrell and his Quaker background, and not to Walsh's Museum of Old and new Art.
The link to Walsh and MONA is pure chance and one wonders whether Walsh realised this, and used this hook to patiently get Turrell and his work to Hobart.
Turrell eventually relented and came to Hobart and the pair built the 'Skyspace' and negotiated for the installation of other works, four of which are in MONA'S Paros and the other couple are nowhere to be seen, yet. Australian artists like Boyd, Nolan and Storrier have long lamented the superb quality of light in the Australian outback, so naturally I was interested in a couple of aspects of Turrell's work using "Apertures" or openings with light.
The other element that makes this American artist different, is the diversity in scale he is willing to work with to create a sensory experience for the viewer. The more I researched the artist and the back story between Walsh and Turrell, the more interested I was in how his work parallels with science, astronomy and art.
Turrell's journey and story is almost as interesting as Walsh's, but they come from two entirely different backgrounds.
For 50 years the 78-year-old Quaker, artist, pilot and rancher from Flagstaff, Arizona, has worked with the medium of light and space as his blank canvas. His work is about the sensory experience that light and form are able to be produced with the combination of scale, natural light, artificial colour, openings and the geometry of shapes to create wordless thoughts. To understand this completely, you really need to sit or stand in front of one of his works or sky spaces to find out for yourself. This you can do at Mona.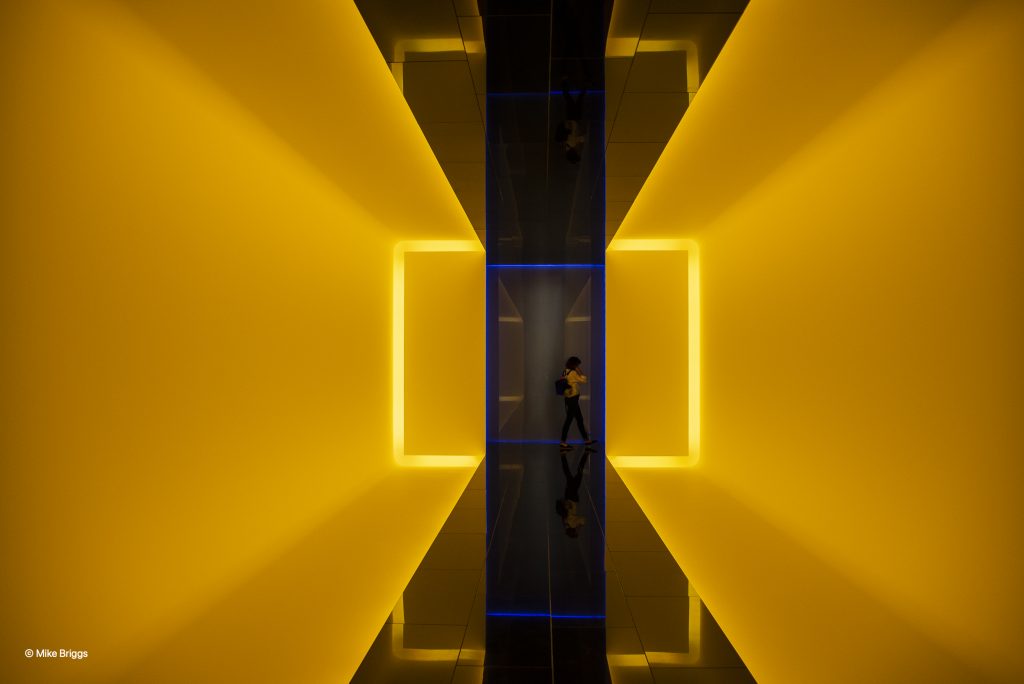 In 1977, Turrell began work at Roden Crater, an extinct volcano approximately 580 feet tall and nearly two miles wide outside Flagstaff, Arizona. Inside the bowl of the crater, Turrell has sculpted a series of chambers, sky spaces and tunnels, of which one is 850 feet long and designed to align perfectly during a major Lunar Standstill every 18.61 years. Everything at Roden Crater is fashioned to specifically heighten the sensory perception of heaven and earth. He has spent 45 years on this grand scale project not yet open to the public, but plans for the project's future with or without himself. He has won numerous awards, grants and support for his projects and currently has works in 22 countries across the globe, several in Tasmania's Mona and one in Canberra.
Turrell's work if you like, is a juxtaposition to those artists that work mostly on paper, or canvas and in metals, ceramics and clay. That is not to say that it is undervalued either and Walsh for one has recognised that getting some of his pieces to Hobart was a way to break free of the traditional gallery concept and combine it into the ever evolving architecture and curated spaces in both the internal and exterior infrastructure of the museum. I think this has been his goal for a long time and started when he constructed and designed the site in the first place. It is like Walsh was just waiting for someone like James to complete this, and add to the existing spaces and now he has a number of artists' work as a vehicle to do this. Installing Turrell's 'Unseen Seen' in his restaurant extension called 'Pharos', named after the ancient Pharos Lighthouse in Alexandria, is an example of him moving towards his objective and further from the traditional way of experiencing and viewing art. The area is appropriately named after a lighthouse given both its position on the water and the number of Turrell works that it houses, including the centre piece of Unseen, Seen.
The perceptual cell that is Turrell's Unseen, Seen is a sphere where you're led through an aeroplane-style door into a large white orb, and up a curved staircase. At the top, you lie down on a tilted bed and stare at the curve of the white ceiling. You're handed a panic button that you can press at any point if you find the experience too intense and are asked to choose between a 'hard' cycle and a 'soft' cycle. Walsh describes the experience as being able to see the inside of your eyeballs and the colour of his thoughts. it is my intension to further explore some of Turrell's work at Mona in the near future, particularly his perceptual Cell, 'Unseen, Seen installed in Faros.
Mike Briggs, Margate Tas. July 2021
Source material from;
Mona Blog, Journey by David Walsh, Jan 2018
Http://James Turrell.com/about/introduction
Smithsonian Institute Magazine/A look At James Turrell' Roden Crater, May 2021.